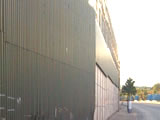 An interface or
peace wall
on the Springfield Road
in Belfast
It's hard for us to believe, but May saw us holding the eleventh annual Intensive for those in Northern Ireland working to reconcile and heal divisions in their communities and create a new future. Twenty-four men and women, evenly divided between the Catholic and Protestant faiths, participated over three days as a way to develop their leadership and strengthen the effectiveness of their work.
Participants confront the role identity plays in their communities and in their own lives and explore the question of who they are if they are not merely their identities. Along the way, they create for themselves a clearing in which something entirely new can show up, a breakthrough beyond what has been possible, a future that comes from what one stands for rather than from what the past hands us, and a deeply connected community of common commitment. Since 1999, more than 400 people have participated in the Intensive, which remains one of our most powerful, moving, and effective programs.